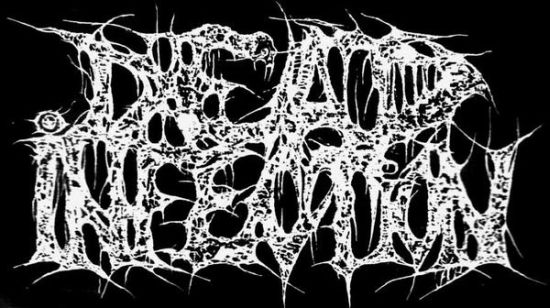 Artist:
Dead Infection
Country of origin: Poland
Location: Białystok
Status:
Active
Formed in: 1990
Years active: 1988-1990 (as Front Terror), 1990-1999, 2002-present
Genre: Gore Grind
Lyrical themes: Gore, Road Casualty, Fatal Accidents, Putrefaction
Current label:
Fat Ass Records
Members:
Cyjan: Drums (1990-present)
Pierścień: Guitars, Vocals (2005-present)
Vertherry: Bass (2016-present)
Dead Infection are the second band from Poland after Vader that made a deal to release a CD/LP with a non-European label. Their second album, A Chapter of Accidents, is considered by many to be among the milestones of goregrind music. They played numerous live shows around the world, including all of Europe, the United States, Mexico, and Japan.
The band supports anti-fascist movement.
Compilation Appearances:
- "From the Anatomical Deeps" and "Peritonitis" on Emetic Desecration (Brutal Grind Death Metal Compilation) (Sylphorium Records / Tribulacion Productions, 2001)
- "I've Got to Grind" on 100 Way Splatter Fetish 2 (Parkinson Wankfist Pleasures, 2009)
- "Think" on A Tribute to Nasum (Power It Up Records, 2010)
Discography:
Surgical Disembowelment (1993)
Dead Infection / Incarnated (1994)
Dead Infection / Blood (Split 1994)
A Chapter of Accidents (1995)
Dead Infection / Haemorrhage / C.S.S.O. (1996)
Human Slaughter... Till Remains (1997)
Dead Infection / Malignant Tumour (1998)
Dead Infection / Clotted Symmetric Sexual Organ (1998)
Dead Infection / Infected Pussy (1998)
The Greatest Shits (1998)
Dead Singles Collection (2001)
The Lethal Collection (2003)
Brain Corrosion (2004)
Corpses of the Universe (2008)
Dead Infection / Regurgitate (2009)
Dead Infection / Haemorrhage (2009)
Dead Infection / Parricide (2014)
Unofficial Video: